Finance
at NEW WORK SE is way more than just number crunching.
To us, New Work is more than just a buzzword. It's a promise. We strive for a more fulfilling workplace. And we know that it takes more than money to make you happy. Feeling appreciated and being in a positive environment is what really makes a difference.
Here, we all work on things we're interested in and care about. And just like that, we form a fantastic team. Become part of something bigger and do what you really, really want to do!
NEW WORK SE gives you space for change and new ideas. You can bring up your ideas at any level, ranging from your team right up to the Executive Board.
Jobs

Our current job openings in finance.
Hamburg

Payment Operations Manager / Financial Accountant (m/w/d)

Read vacancy

Hamburg

(Senior) Business Unit Controller E-Recruiting (m/w/d)

Read vacancy

Hamburg

(Senior) Business Controller (m/w/d) – Digitale Geschäftsmodelle

Read vacancy
Show all
Finance at NEW WORK SE is more than you'd expect. Our 10 brands work with different business models and it's our job to guarantee their economic success. This adds a lot of variety and responsibility to our everyday working life. It also means we have a lot of impact on the business as a whole.
As a publicly listed company we have high standards when it comes to our publications, especially our business results. You'll follow board discussions closely and experience the speed and spontaneity of a company like NEW WORK SE.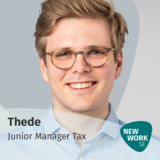 "Short decision-making processes and inspiring colleagues make New Work SE an ideal place for personal and professional development."
Thede joined us in 2021 as Junior Manager Tax. Previously, he worked at KPMG in their M&A Tax practice. Thede also holds a philosophy degree which he benefits from during busy times.

Connect with Thede on XING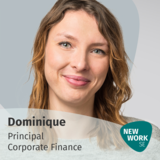 "Finance at the NEW WORK SE is more than number-crunching. We are a team that turns numbers into stories and opportunities."
Dominique joined us in 2018. Several years within the transaction business has given her the experience and the confidence to drive challenging but also exciting topics within New Work.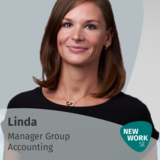 "Professional challenges, celebrating successes and a great team spirit make working at New Work SE so unique."
Linda joined New Work in 2019 as Manager Group Accounting. Several years of professional experience at PwC in the audit team has laid a good foundation for this. She loved "playing office" since she was a little girl.

Connect with Linda on XING
More than just number crunching and reports: Work on what matters!
Your HAPPINESS

Benefits at NEW WORK SE
Community
Mobile devices also availabe for private use
Summer and Christmas parties
Drinks, food & goodies
Social and diversity day, mentor month
Bus and train ticket
Bike leasing
Health
Health consulting services
Accident and health insurance
Company doctor and flu shots
Height-adjustable desks
Company pension
Sports classes
Family & Leisure
Sabbatical and part-time options
Remote work option
Trust-based working hours
Restaurant vouchers and employee discount
Magazines of the Burda publisher
Kids christmas party
Culture & Development 
Communication on equal terms

Lived culture of failure

Mood-o-Meter Feedback / questions for the board

Personal development thanks to internal and external workshops

Transparent, competitive salary

Hackweeks