As part of the NEW WORK SE Group, XING is the social network for your professional life. With over 19 million members from Germany, Austria and Switzerland, professionals from every industry use XING to network, find jobs and gather inspiration about the world of work. Driven by our vision 'For a better working life', we create products aiming a better working world while also supporting you in your personal development. Are you looking to unleash your full potential, your passion, your commitment and your creative ideas? If so, you've come to the right place! To us, New Work is more than just a buzzword, which is why you'll work on products that make a huge difference for millions of members. Join the team and help shape the network for a better working life.
NOTHING SUITABLE YET?
Perhaps you've not found the right vacancy yet, but are keen to pioneer the world of work. If that's the case, send us an unsolicited application.
Otherwise, run a search to see if we're hiring for a position you're looking for!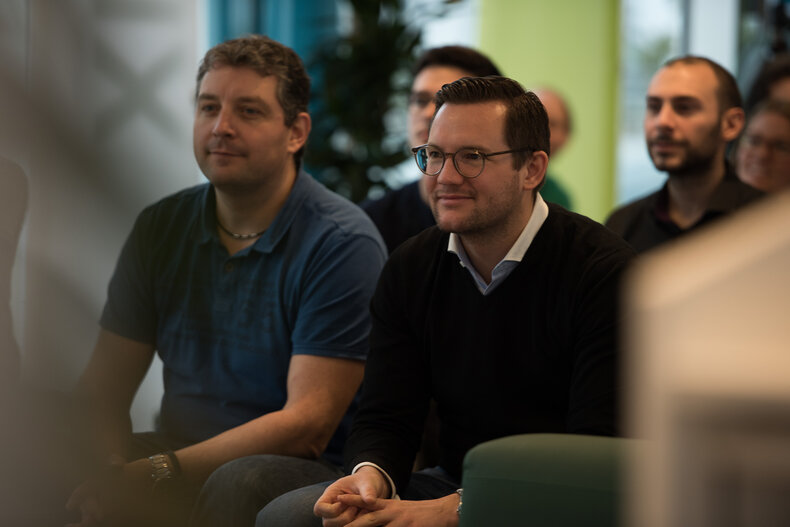 Our credo

Making the world of work better. Together.
Advocating a better working life not only applies to our members, we also practice it within the company. As an employee you enjoy the freedom to explore ideas and pursue your personal development while helping to craft our products. Show us what you are made of. Flexibility is key, and that's why internal job moves, involvement in communities of practice, and part-time positions are the norm at XING.
Diversity, internationality and a family-friendly mindset are just some of the things you'll find at XING. The entire company and platform revolve around and rely on human interaction. With over 500 employees from more than 40 countries, we work as one single team across multiple departments and 4 different locations. Smooth operations are all thanks to the mutual respect we show one another when exchanging ideas directly without any formal hierarchies getting in the way. Transparency is essential, which is why we organise regular update meetings, Q&A sessions, and employee surveys. That way, you can be sure that your voice is heard.
What are the next steps

Your recruitment process

Here's some information about the recruitment process for you to check out before sending us your application:
1
Covering letter
Feel free to apply in English or German – whatever works best for you. Your covering letter shouldn't simply repeat what's in your CV. Instead, we want to find out about your motivation for the position and the company, and why you think you're the best fit for us. When listing your professional experience in your CV, you may include specific duties and responsibilities. If you already have this information in your XING profile, you're more than welcome to just send us a link to your profile instead of a separate CV.
2
What we would like to hear from you

Please make sure you take the time to find out about our products and network before applyling. You need to have some understanding of our networking, messaging, news, events and Premium features, along with the value they provide to members. You should also be confident you're a good fit for the role, especially as we're likely to ask you to complete a task as part of the interview process.
3
Interview
We're a fairly informal bunch, so you'll find that most of us dress casually. Whether you attend interviews in person or remotely, just wear whatever you feel most comfortable in.
4
Preferred form of application
The simplest way for you to apply is via the 'apply' button in our online job advertisements. It also means that your application will be automatically delivered to the right person. You're also more than welcome to apply via e-mail or XING message. But please don't apply by post – after all, we are an online company ;-)
5
Selection process
If you make it through to the shortlist – congratulations! The next step is a telephone interview so we can gain a first impression of one another. This won't be a one-sided story where we ask and you answer, we want you to ask us questions, too. Provided all goes well during your phone interview, you'll attend one or two personal interviews where you'll get to know your future manager along with one or two of your future colleagues. This is designed to help you get a feel for whether you're a good fit. Depending on the job, we may also use tests, role plays and business cases during personal interviews to build up a better picture about you.
You feel right at home in the digital world and closely follow the latest trends and developments.

You believe in supporting people with their professional aspirations and goals by enabling them to connect and exchange ideas with one another on XING.

Your thoughts and actions have the sole purpose of finding the best solution together with your colleagues.

You appreciate flat hierarchies and fast decision-making processes, a multicultural environment and a corporate culture defined by trust and transparency.

You enjoy working with others. You are communicative, respectful and constructive.

Your English is good enough to communicate easily with others in your daily work.
WHAT YOU CAN EXPECT

Our benefits
Health 
Health consulting service
Height-adjustable desks
Sport classes
Family & Leisure
Sabbatical and part-time options
Remote work option
Trust-based working hours
Culture & Development 
Communication on equal terms
Personal development thanks to internal and external workshops
Transparent, competitive salary
Community
Mobile devices also availabe for private use
Summer-, Christmas parties and social days
Bus and train ticket
any questions?

Let's chat!