Welcome!

We are XING Marketing Solutions.
XING Marketing Solutions is one of the fastest growing and most dynamic business units in NEW WORK SE cosmos. As a brand of NEW WORK SE, we strive to offer our employees a better working life. For us, advertisers and agencies, native and video formats as well as branding and performance solutions are the focus of our work. Because we know exactly how to create purchase incentives and improve our targeting mechanisms based on real user data, we can competently support our clients in placing messages most effectively and successfully. We take the lead – and you can become part of our amazing team!
Thanks to the great trust that users have in the XING brand, our customers can reach their exact target group and thus place advertisements with minimal wastage. With us, you will work with the latest technologies and tools in an international environment. The heart of XING Marketing Solutions is a self-booking tool that you, as a data scientist, architect or developer, will continuously improve. The aim is to offer our customers a wide range of products and to inspire them every day.
Hamburg

Junior Manager Customer Success - Marketing Solutions (m/w/d)

Read vacancy

Hamburg

Online Marketing Manager (m/w/d)

Read vacancy

Hamburg

Key Account Manager (m/w/d) – XING Marketing Solutions

Read vacancy
Show all
NOTHING SUITABLE YET?
You can't find a suitable position but you are motivated to pioneer the future working world? Then convince us of your qualities and send us an initiative application.
Otherwise, search for your dream job here!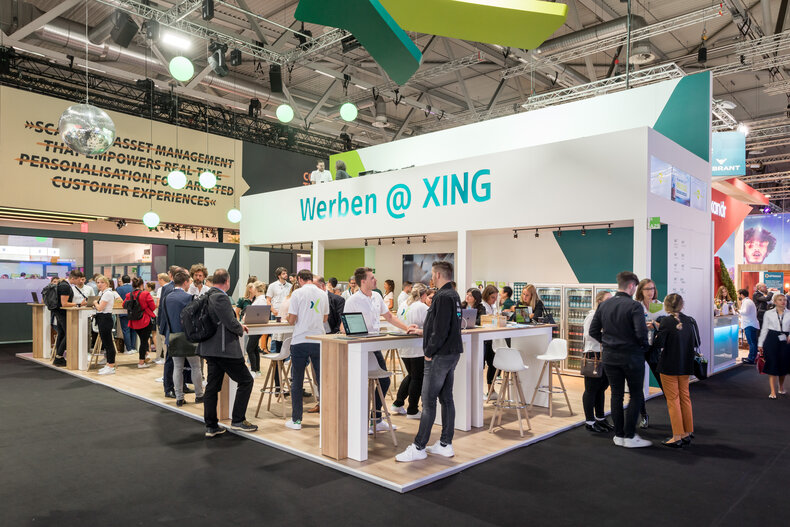 what we believe

Wir are authentic! 
At XING Marketing Solutions, we love the marketing environment and our state-of-the-art technologies. With us, you will find an environment in which you can realise and show your full potential! We are convinced that we can only perform best as a team and that everyone contributes in their own way. We know each other well and we know how to combine our strengths and use them in a targeted way. We are particularly proud of our diversity and internationality. We communicate at eye level: directly, appreciatively and without hierarchical thinking. Every single colleague should feel comfortable and be able to contribute. This includes having a coffee "in between" as well as working in cross-functional teams. Do you want to drive your personal development and realise your full potential? Then you've come to the right place! We help you to get the best out of yourself and at the same time pay attention to a healthy and fulfilling work-life balance.
What are the next steps

Your recruiting process

For the application processe we have the following tips:
1
Letter of application
You can write your application in German or English, depending on which language you feel more comfortable with. In your covering letter, you may tell us why you would like to work for us. In addition, we are interested in why you particularly like the advertised position and which of your strengths you could bring to it. In your CV, it helps us if you not only list your professional stations, but also describe your concrete activities and responsibilities as precisely as possible.
By the way: If you have already entered all this information in your XING profile, we will only need a simple link to it instead of a CV.
2
Expectations of candidates
As an applicant, we expect you to have familiarized yourself with the various marketing solutions offered by XING. You are familiar with the advantages our products offer agencies and advertisers. You should be confident of meeting the requirements of the position. Depending on the field of activity, we may ask you to bring a samples of your work to the interview or to work on a task we have set for you - but you will be informed in detail beforehand.
3
Interview
It is important to us that you feel comfortable at your interview. If you are either passionate about wearing suits or fancy dress, then feel free to wear that. If you feel more comfortable in jeans and a jumper, go for that. (Most XINGers like it more casual).
4
Preferred form of application
We are particularly pleased about the "Apply" button on our online job advertisements. This ensures that your application is quickly read and answered by the right person. However, we also accept applications by e-mail or XING message. We don't like to see paper applications though - after all, we are an online company ;-)
5
Selection process
If you have made it to the shortlist, we will first invite you to a telephone interview. Here we will get a first impression of your personality and your skills. You will also have the opportunity to ask us some initial questions. The next step is one or two personal interviews, where you will usually not only get to know your future manager, but also one or two of your future colleagues. This will certainly help you to assess whether you are a good fit for us. Depending on the job, we use tests, role plays and business cases during the personal interviews to get an even better impression of you.
You are a marketing professional or want to become one. For you, relevant advertising is just as valuable as relevant content.

You feel at home in the online and/or digital media world and follow current trends and developments with great interest.

You enjoy working successfully in a team. You enjoy communicating with clients and colleagues.

You appreciate flat hierarchies and fast decision-making processes, a multicultural environment and a corporate culture characterised by mutual trust and transparency.

You like to pull the strings, discuss on eye level with different stakeholders and communicate openly, respectfully and constructively.

You enjoy working in a diverse, international team.

You like to think outside the box and proactively make suggestions on how to further improve our new product for the benefit of our customers and our internal goals.

You work well-structured, conscientiously and solution-oriented.

A very good English knowledge completes your profile.
WHAT YOU CAN EXPECT

Our benefits
Health
Health consulting service
Height-adjustable desks
Sport classes
Family & Leisure
Sabbatical and part time
30 days of vacation
Trust-based working hours
Culture & Development 
Personal development thanks to internal and external workshops
Transparent, competitive salary
special talks/lectures
Community
Mobile devices also availabe for private use
Mobile work
Summer-, Christmas party and more
any questions?

Let's chat!