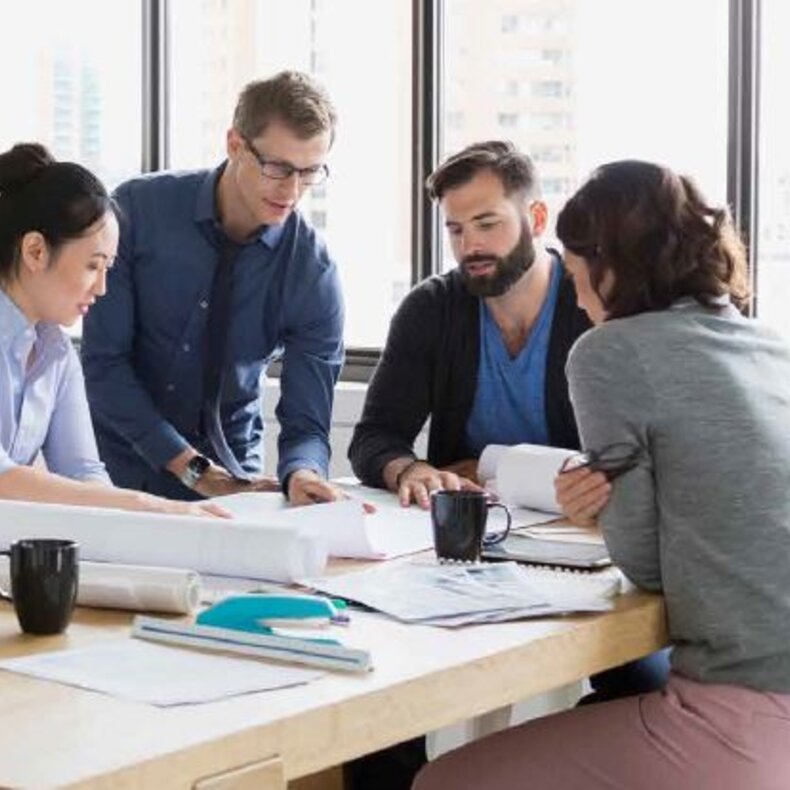 Feb 25, 2020 |

NEW WORK SE sees double-digit revenue, EBITDA and profit growth in 2019, and confirms targets for 2020 back to overview
XING grows to around 17.6 million members, with every second jobseeker in Germany using kununu
B2B E-Recruiting main growth driver with 29 per cent segment revenue growth
Executive Board proposes 21 per cent dividend increase
Hamburg, 25 February 2020 – NEW WORK SE (formerly XING SE) today published its preliminary unaudited figures for the 2019 fiscal year. Revenues (including the Honeypot acquisition) in 2019 grew 16 per cent to €269.5 million (FY 2018: €231.5 million). Earnings before interest, tax, depreciation and amortisation (EBITDA) increased by 14 per cent to €85.6 million (FY 2018: €75.2 million). The NEW WORK SE Group's new profit rose by 11 per cent to €34.4 million (FY 2018: €31.0 million), and by as much as 21 per cent following adjustment for special effects.
B2C: XING grows to around 17.6 million members, with every second jobseeker in Germany using kununu
During the period under review, revenues in the B2C segment rose by 3 per cent to €103.2 million (FY 2018: €99.9 million).
The main growth driver here was the increase in customers of paid offerings from the XING brand. The XING Premium product is set to receive an overhaul in the near future to make it an even more appealing proposition for members. By way of example, the platform provides members with more statistics to help them optimise their profile and showcase their skills, while also delivering exclusive news content (e.g. from the German-language Harvard Business Manager) and free access to e-learning platforms. All in all, XING reported healthy member growth by welcoming around 1.9 million new members during the period under report, taking total membership past the 17 million mark in 2019. XING currently has around 17.6 million members.
Subsidiary kununu, Europe's leading employer review platform, also developed well in 2019. The number of so-called "Workplace Insights" (consisting of company reviews as well as culture and salary data) rose by more than 1 million to over 3.5 million in German-speaking countries at the end of the 2019 fiscal year. kununu.com currently has over 3 million monthly visitors on average, which is almost half of all jobseekers in Germany.
B2B E-Recruiting main growth driver with 29 per cent segment revenue growth
The B2B E-Recruiting segment was again the main growth driver within the NEW WORK SE Group during the previous financial year with revenues rising by 29 per cent (including the Honeypot acquisition) to €140.4 million (FY 2018: €108.7 million). In addition, revenues in the B2B Marketing Solutions and Events segment climbed 20 per cent to €26.1 million (FY 2018: € 21.7 million).
Subsidiaries within both segments released a number of new solutions in 2019. As an example, business clients now have access to a suite of brand-new employer branding products based on corporate culture analyses performed by kununu, in turn providing companies of all kinds with ways to find talent who are a good cultural fit. In addition, XING gradually phased out display ads in 2019, with the platform now having discontinued them completely. Instead, XING now offers native advertising solutions which provide brands with better product placement opportunities for an appealing XING audience, while also offering XING members an enhanced user experience.
Executive Board proposes 21 per cent dividend increase
CEO Thomas Vollmoeller said: "A distinct feeling of uncertainty crept into the German economy during 2019. Despite this challenging backdrop, we continued to grow in every area of the business and again saw a double-digit rise in our revenues. We're in an excellent position with our brands and continue to benefit from the paradigm shift taking place in the world of work because we help people to enjoy a happier working life, while supporting companies in their quest for the right talent. We're all set to continue our growth trajectory and, as announced, we're in an excellent position to meet our targets."
NEW WORK SE set itself the goal of achieving annual revenues of more than €300 million and an EBITDA of €100 million at the end of 2020.
CEO Vollmoeller also added that the NEW WORK SE Executive Board has agreed to put forward a proposal to the Supervisory Board to increase the regular dividend by 21 per cent from €2.14 per share to €2.59 per share.
About NEW WORK SE
The NEW WORK SE Group builds upon the XING SE success story by offering brands, products and services that foster a more fulfilling world of work. Founded by Lars Hinrichs as the OpenBC professional network, the company was renamed XING in 2006. In 2019, the company was renamed again to New Work SE as a reflection of its commitment to a better working world and to bring all of its business activities under the umbrella of New Work. The company has been listed on the stock exchange since 2006. NEW WORK SE is a central leadership and management holding, serving as a service department for its subsidiaries. The Group is headquartered in Hamburg and currently employs 1,600 people at offices including Munich, Vienna and Porto. In 2018, NEW WORK SE generated annual revenues of 235.1 million euros. Visit https://new-work.se and https://nwx.new-work.se/ for more information
You've got questions?

Feel free to contact us!