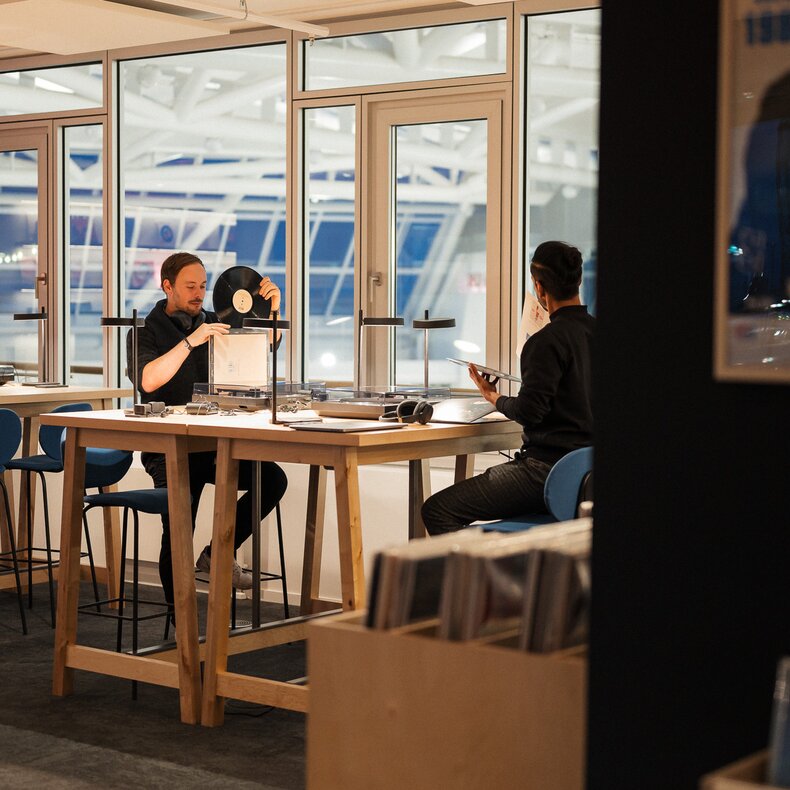 We as an employer
Together we are shaping the future of work!
OUR PEOPLE

I am a Pioneer
At NEW WORK SE we are interested in our employees living out their very own vision to improve the (working) world. In doing so, we try to give you the necessary freedom and offer you an environment that will help you grow. Because at the end of the day, you are our greatest motivation, inspiring us every day. At "I am a Pioneer" we give our employees the platform to talk about themselves and their extraordinary lives, moments or visions.
We don't see "New Work" as a buzzword. To us, it's a promise. We strive to make happiness at work a reality. Because it's also about the working environment and appreciation in particular. It's about creating the best team setup you can imagine, and about getting involved in things you're passionate about. And you can be part of it! We want our employees to innovate and we enable them to do what they really, really want.
We don't want to tell you anything about our benefits - you'll find plenty of them here indeed. It's rather important that we go one step further. We offer you the opportunity to develop yourself, a place where you are encouraged to contribute your input, which drives our processes, to portray your most innovative ideas and to receive the appreciation for your work that you deserve. At NEW WORK SE, culture starts together, because only together we are able to achieve our greatest goal - to shape the future working world. This vision is our daily drive, which we want to make accessible to as many people as possible. Of course, we live this approach in our own company, where our interaction is characterized by respect, transparency, dialogue at eye level and flexibility. In our four cultural beliefs we have set out our cultural convictions.
Our focus is on you. We are aware that our employees are the key to innovation and corporate success, so your satisfaction is highly prioritized. To keep a close eye on this, we measure our "Happiness Index" throughout the company every two weeks. This allows us to understand the general satisfaction of our employees at the moment. In addition, we have a weekly company meeting. Among other things, this Happiness Index, comments and concerns of our employees will be discussed here. For the meeting, comments can be submitted online and anonymously in advance. They can be viewed and rated by the employees in beforehand. The top 5 comments are then answered by our board every Friday. In this way, we guarantee that everyone at the NEW WORK SE will be heard and will have the opportunity to place their own topics.
This is what we stand for
Everything we do is based on our employer values. These values consists out of three different core messages that are our daily motivation and that drive us to become the employer of choice.
We care about your development
The development of our employees is particularly important to us. We want to give you the opportunity to develop professionally and personally, and we will actively support you in doing so. At NEW WORK SE, you have a range of internal and external trainings to improve your skills and support your career path. We have set ourselves the task of especially promoting female talents, which is why we launched the "Female Executive Learning Journey" in 2018. In this programme, the talents go through various training phases in which they deal with their own further development and gender-specific behaviour, among other things. By training not only the female employees and managers, but also the executives, we hope to have a lasting effect on the entire company.
You will find diversity in our corporate structure as well. NEW WORK SE comprises 10 brands, each with its individual products, spirit and stories. Our employees come from more than 58 nations and work together internationally. It is not always easy to meet the wishes and needs of all our stakeholders. And while we may not be perfect yet, we do agree with everyone on one aspect - our culture.
We believe that diverse teams with different perspectives are happier, more creative and deliver better results. That's why we advertise and fill vacancies in accordance with the General Equal Treatment Act. In addition, we signed the "Diversity Charter" in 2019, which commits us to advancing the recognition, appreciation and inclusion of diversity in the working world in Germany. In this context, we take part in the annual "Diversity Day" to make the topic of diversity even more tangible and present for us together.
NEW WORK SE is a people company, we see and value you and all our employees. With us, you will find respectful communication, from trainees to management - it doesn't matter which title you hold. We want you to feel comfortable. For us, it is irrelevant what you look like, what name you give yourself or where you come from. We have room for bright colours, creative minds and for you!
At the end of 2021, the time has finally come! We will move to our new office in the heart of Hamburg - the NEW WORK Harbour. This move will allow us to express our vision and values not only in our daily business but in our working environment. You can look forward to a diverse office that allows you to be creative and innovative, to exchange ideas with your colleagues and that embodies much more than just a workplace.
OUR BRANDS
NEW WORK SE
Here you can find an overview of our 10 subbrands that belong to our NEW WORK SE family. Indeed, each brand has its own story - yet they share own major goal: Pioneering New Work together!