Sep 10, 2018 |

Candidates inside: XING and Prescreen boost recruiting process with integrated applicant tracking system back to overview
Closer to candidates: Contact XING members from within Prescreen
Optimising talent acquisition thanks to employee referrals and talent pools
Support for recruiters: Prescreen matches candidate profiles with job descriptions
Hamburg, 10 September 2018 – The current lack of skilled workers is a frequently covered topic on German talk shows, and for recruiters this is a very real problem. Their time to hire is getting longer, and sometimes vacancies even remain unfilled. A recent forsa study* conducted on behalf of XING E-Recruiting shows just how acute the situation on the German labour market has become: more than three-quarters of the 200 HR heads surveyed stated that they need up to six months to fill managerial positions. 73 per cent of those surveyed said they had seen a general increase in their time to hire during the last five years, and around the same number said they expect this trend to continue over the next five years. Companies are experiencing particular difficulties when it comes to hiring IT experts (68%) as well as engineers and people in other technical professions (62%). In order to help recruiters overcome these difficult conditions, XING E-Recruiting and Prescreen will be attending the flagship human resources trade fair, Zukunft Personal Europe, in Cologne from 11 to 13 September 2018 where they will present an integrated applicant tracking system providing access to the more than 14 million potential candidates on the largest online business network in German-speaking countries. That way, recruiters can use their regular interface to gain instant access to potential candidates without having to invest in sales or marketing beforehand. This speeds up the recruiting process significantly, in turn reducing the time to hire considerably, while also giving recruiters the edge in the war for talent. Closer to candidates: Contact XING members from within Prescreen XING announced its acquisition of Prescreen, a cloud-based applicant tracking system provider, in July 2017. "Our joint product vision was clear from the outset: link the largest online business network in German-speaking countries with an everyday recruiting interface – an applicant tracking system", explained Alastair Bruce, XING CSO. Recruiters use such systems, which are commonplace in most large companies, to track an applicant's progress throughout the entire hiring process. Recruiters can use applicant tracking systems to post job ads on their company's career site as well as on networks and job boards. They are also a great way to document job applications and sort them by applicable criteria, while also enabling recruiters to build up a talent pool for filling future vacancies and even providing the option to offer assessments to determine whether candidates are suitable for a vacancy. The deep integration of XING has resulted in a major overhaul of Prescreen so that it is clearly distinct from other applicant tracking systems in terms of its feature set. Usually, recruiters have to add candidates to the system manually, but Prescreen enables recruiters to shortlist and get in touch with potential candidates from within the system provided the candidates have granted their permission. This spares recruiters the hassle of adding candidates manually, and they no longer need to use separate recruiting and applicant tracking systems. As a result, recruiters no longer need to spend hours scouring the market for good candidates, meaning that they can focus more on their main task, the selection process. Optimising talent acquisition thanks to employee referrals and talent pools Introduced last year, the XING TalentpoolManager enables recruiters to adopt a long-term strategy that extends far beyond simply filling the next vacancy. This is because they can create talent pools filled with potential candidates that recruiters can now also access and shortlist from within Prescreen. As an example, talent pools can include candidates who set the corresponding company as their ideal employer on XING. In addition, employee referrals received via the XING ReferralManager are automatically shortlisted. Experience shows that candidates from such talent pools are far more likely to be interested in a vacancy than other candidates. If companies receive an application via e-mail or other platforms, as is often the case, Prescreen now offers the option of linking those applications to the candidate's XING profile so that their details are always up to date. HR departments will also be able to use Prescreen to post their vacancies on more 300 job boards, and they can already post them free of charge on XING to promote them among the over 14 million knowledge workers in German-speaking countries. Support for recruiters: Prescreen matches candidate profiles with job descriptions Prescreen's technology is built on innovative matching technology that compares candidates with various criteria set out in the job description and then shows how good a match the candidate is for the vacancy. This cloud-based system is intuitive and available via Internet browsers, meaning that users can be up and running in next to no time with more flexibility than desktop solutions. The system can also be adapted to user needs in line with the company's existing workflows. Prescreen is one of Europe's fastest growing applicant tracking system providers. Acquired by XING in July 2017, the company currently has over 600 corporate clients, including Beiersdorf, Idealo, Ströer and runtastic. Clients need to purchase a corresponding licence package from XING E-Recruiting and Prescreen to gain access to the described features. Coupled with the XING network, these features can simply be activated in Prescreen. Users can of course continue to use Prescreen without accessing the XING platform. Pricing depends on the size of the company and the recruiting volume.
Download pictures here for media coverage. *forsa study with 200 HR heads from companies with more than 200 employees in Germany; interview period: 6 until 31 August 2018 Press Contact: Felix Altmann Senior Communications Manager XING SE +49 40-419131-603 presse@xing.com https://www.xing.com/profile/Felix_Altmann About XING The leading social network for professional contacts in German-speaking countries accompanies its members through the process of change in the world of work. Against the backdrop of skills shortages, digitalisation and a shift in values, XING supports more than 14 million members in reconciling work and private life as seamlessly as possible. Members are thereby able to use XING Jobs to search for a job that suits their individual needs, stay up to date with news offers on XING, participate in discussions, and find out about the changes and trends in the new world of work in the XING spielraum portal. At the beginning of 2013, XING strengthened its position as a market leader in social recruiting by acquiring kununu, the market-leading platform for employer ratings in German-speaking countries. XING was established in 2003 and has been listed on the stock exchange since 2006. It has been listed in the TecDAX since September 2011. XING members interact in around 90,000 groups or network in person at one of the over 130,000 professional events each year. XING has offices in Hamburg, Munich, Barcelona, Porto, Vienna, and Zurich. Visit www.xing.com for further details.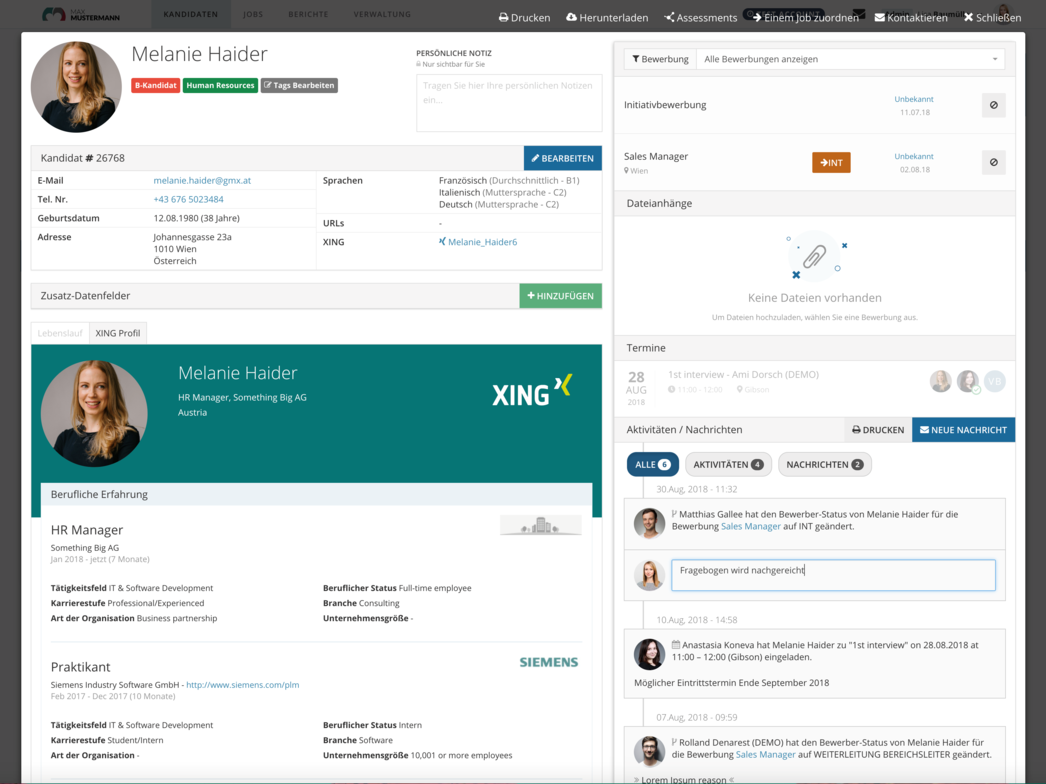 You've got questions?

Feel free to contact us!