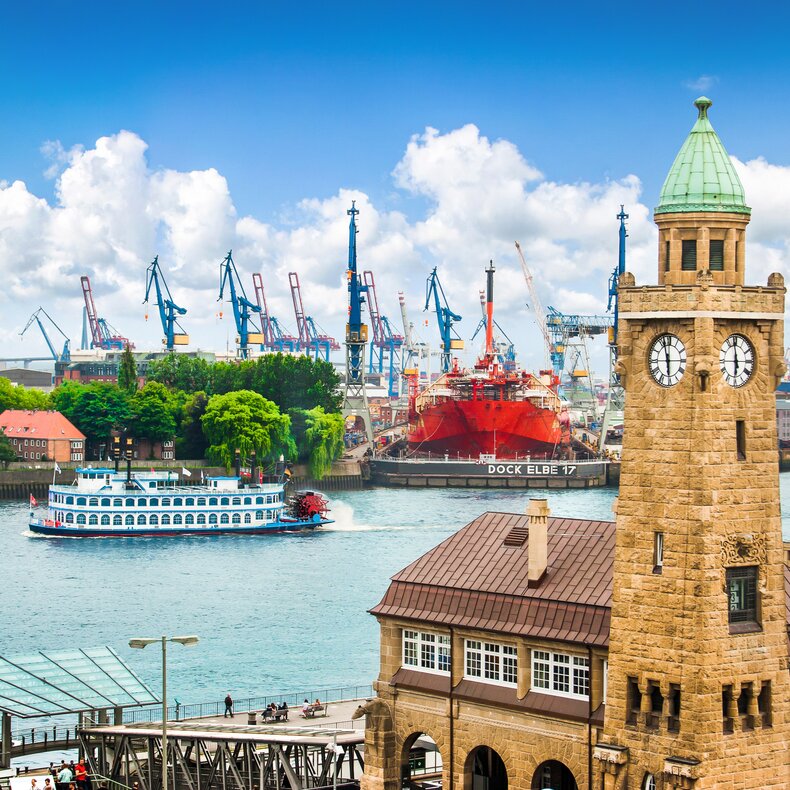 Moin Hamburg!
Do what you really love. Start your career with NEW WORK SE.
NEW WORK is our MOTIVATION

Who are we?
We believe in a working world in which people can realise themselves and develop their potential.
We are convinced that this not only makes individuals happier and more satisfied - but also makes companies more successful. Based on this conviction, the NEW WORK SE group of companies with its brands, services and products is committed to a more fulfilling working environment - 'for a better working life'.
You will find NEW WORK SE as an employer at its headquarters in Hamburg and at other locations in Berlin, Munich, Vienna, Barcelona, Valencia and Porto. Currently, around 1600 employees from 55 nations are working to actively shape the future of work.
YOU NEED MORE REASONS?

An environment and a city that inspire:
You work in the heart of Hamburg in an innovative and dynamic working environment.
Shape the future of work together with us.
Do you believe in the fulfilment of purpose and self-realisation instead of hierarchy and a culture of presence and would like to actively shape the transformation of the working world? Then you are in the right place with us.
Bring your ideas to life.
Many people have good ideas - and don't know where to put them. Your ideas will be heard, no matter what brand or department you work for. This is good for you - and for us.
Learn something new every day.
Are you someone who enjoys every opportunity to learn something new? Then you'll fit in perfectly with our team. We would like to give you the opportunity to develop your strengths further.
Welcome to our team.
We believe that working together leads to better results and that mixed teams with different perspectives are more creative. And quite honestly: it is much more fun that way.
2019
XING SE becomes NEW WORK SE
XING SE becomes NEW WORK SE. The background to the change of name is the vision of a humane and therefore better working environment. New Work is becoming a widely visible bracket around all company activities.
Honeypot becomes part of XING
XING takes over Honeypot, the leading job platform for IT professionals in the German-speaking world. Honeypot turns the classic principle of the job marketplace around: Companies apply for jobs with specialists according to predefined rules.
2018
XING grows
More than 15 million members in the DACH region exchange information in almost 80,000 groups on XING. XING SE has now broken through the 1,500 mark.
New Work Experience for the first time in Hamburg's Elbphilharmonie Concert Hall
The NWX enters the second round spectacularly. The new edition of the largest conference on the future of work in the DACH region welcomes more than 1,500 participants for the first time in Hamburg's Elbphilharmonie Concert Hall.
2017
First New Work Experience (NWX)
With NWX 2017, XING is creating the first major event and the strongest exchange platform for 'new work' in the German-speaking world. Nearly 1,000 guests attended the event, and as a highlight, celebrated New Work founder Professor Dr. Frithjof Bergmann with standing ovations.
Prescreen & InterNations join XING
In addition to the applicant management system Prescreen, the expat network InterNations will also become part of XING SE. For the first time, the company employs more than 1,000 people.
2016
eqipia new on XING
eqipia will be acquired by XING. XING is thus expanding its e-recruiting portfolio with a modern program for employee recommendations.
2015
XING hosts "New Work Day
The company organizes a New Work Day at the international Kulturfabrik Kampnagel in Hamburg. In numerous lectures, discussion rounds and workshops, around 850 employees and employers will discuss at eye level and get to the bottom of questions concerning the future of work.
XING becomes "Unicorn
XING launches a content offensive with editorial products and for the first time reaches a market value of more than 1 billion euros.
First NEW WORK sessions kick off
The first NEW WORK SE Sessions take place in Vienna. In an interactive barcamp format, XING offers a new platform for best practices and discussions with experts, experienced and interested parties from the worlds of business, science and politics.
2014
The new XING job market
XING launches the XING job market with New Work criteria and integrated employer ratings.
2013
Social recruiting market leader
XING acquires kununu, the market-leading platform for employer evaluations in the German-speaking world. This move strengthens XING's position as the market leader in social recruiting.
XING awards prize for forward-looking work concepts
For the first time, XING will present the New Work Award 2013, which will honor new concepts for future-oriented work and innovative responses to the radical changes in the world of work.
2010
The new XING
In December 2010, XING takes over Munich-based amiando AG, Europe's leading provider of online event management and ticketing. "The new XING" is launched.
2006
Initial public offering
openBC becomes XING: The company is the first Web 2.0 company worldwide to successfully go public.
2004
First successes
The first groups are formed and the first official offline event starts. More than 500,000 users are already registered on the platform.
2003
Foundation
Lars Hinrichs founds the company in Hamburg, the platform openBC goes online.
WHAT WE OFFER

Room for work. And for life.
With us you can do what you do best. What you really want to do. And what gets you ahead. Not just on the job, but in life.
Part-time, 30 days of vacation or a sabbatical – work-life balance not only tops this list

Keeping with the market & transparent – salaries should be no secret

Health advice, specialist lectures, standing desks, gym courses – we want you to stay healthy

Trust-based working hours and home office – we're just as flexible as you are

Virtual or personal company events – we love exchange

Custom-fit further training - we support you to become even better

And many more_ Find out!
Job SEARCH

Pioneering New Work together

Use the job search to find just the right job for you.